October 6, 2008
Completion Ceremony for NCA's Crew Training Center
Final Step before operations start this fall
Nippon Cargo Airlines (NCA, headquartered in Minato-ku, Tokyo; President Tadamasa Ishida) held a ceremony on October 1 to celebrate the completion of NCA's Crew Training Center. The ceremony was attended by officials from numerous organizations.
The three-story NCA Crew Training Center, which has a floor space of approximately 3,500 square meters, is located in the industrial complex in Shibayama Town, to the south of Narita International Airport. After final adjustments, the facility will begin operations this fall. The Flight Operations Department will transfer part of its functions to the center, which is equipped with a convertible-type, full-flight simulator. Manufactured by CAE Corporation, headquartered in Montreal, Canada, the simulator is designed to train the crews of the world's first Boeing 747-400 freighters (B747-400F) and will be used in the future to train crews for Boeing 747-8 freighters (B747-8F). The center has a wide range of other equipment, including a flat-panel trainer, mainly used in the early stages of crew training, and in January 2009 a maintenance training simulator will be installed to train maintenance workers and first-class aircraft mechanics. It is the first comprehensive training center to be built at Narita International Airport.
NCA is also in the process of building a line maintenance hangar in the maintenance area at Narita International Airport, scheduled to start operations in May 2009. The hangar will be large enough to house one B747-400F or a B747-8F, and will incorporate various environment-friendly features. With the completion of the crew training center and the maintenance hangar, NCA will have secured an independent system for training its crews and mechanics, as well as facilities to maintain its aircraft.
NCA will continue to make the utmost efforts to ensure safe operations and provide high-quality air transportation services that satisfy the needs of its customers.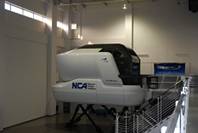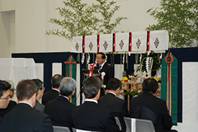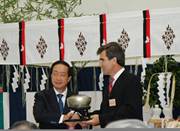 Full flight simulator Speech from President Ishida Conferment of gift from CAE to NCA