December 25 , 2013
NCA newly start to utilize "MEIJIE One-Pallet 96Air"
which can maximize PMC-ULD space utilization

Nippon Cargo Airlines Co., Ltd. (Headquartered in Narita-shi, Chiba: President Fukashi Sakamoto) newly introduce One-Pallet 96Air (replacing wooden skids), in Collaboration with MEIJIE Co.,LTD.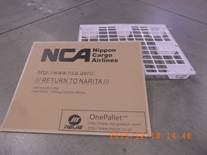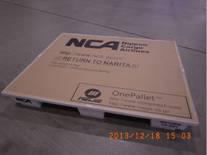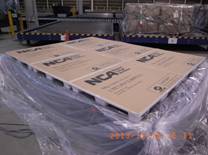 One-Pallet 96Air is the hybrid pallet, which is composed of a plastic frame with nine legs (structure combined design), and special water-repellent, durable cardboard.
One-Pallet 96Air is environmental friendly, the plastics & cardboard materials are 100% recyclable.
Although One-Pallet 96Air is 1200 x 1000mm (47.2 x 39.3inch) in size, 6pieces can be loaded onto PMC ULD with perfect fit, which enables utilization of full area for the maximum cargo build-up volume.
(e.g. with B747 maindeck compartment load ULD contour, about 1.1M3 volume improvement achieved).
One-Pallet 96Air is MEIJIE Co.,LTD.'s Patented product.
● Inquiry for purchase of One-Pallet 96Air
 (except JAPAN)
 WuXi Meijie Logistics Technology Co., LTD
 Room 607, Kairun Office Building, No.1611 North Sichuan Rd., Shanghai, China zip: 200080
 Office tel: 86-2163078799
 mliu@mjlogistech.com
 www.mjlogistech.com
 (JAPAN)
 Meijie Co., LTD
 AzumaSouko.1-53-7 Hikoe, Misato-shi, Saitama 341-0058, Japan
 Office tel: 81-48-951-5331
 sales@meijie.co.jp
 www.meijie.co.jp
● Q&A with utilization upon Air-Cargo build-up
 Nippon Cargo Airlines Co., Ltd. (NCA)
 NCA Line Maintenance Hangar, Narita International Airport Narita-shi, Chiba 282-0011, Japan
 nca.equip@nca.aero
 http://www.nca.aero/e/service/transport/equipment.html


For further inquiries: Please mail to Corporate Planning  ncapr@nca.aero