Children from NAA Eco-Kids Club visit NCA's State-of-the-Art Eco-Hangar
On March 13, 2010, 40 elementary school children from Narita Airport Eco-Kids Club visited the hangar operated by Nippon Cargo Airlines (NCA, headquartered in Narita, Chiba Prefecture; President: Tadamasa Ishida.) This was the first time the NAA Eco-Kids Club had visited NCA's environment-friendly hangar at Narita Airport.
The NCA Line Maintenance Hangar is a state-of-the-art facility that incorporates numerous ecologically-friendly technologies. The hangar was completed in April 2009 at Narita International Airport and went into service in June 2009. During the hands-on tour, the children were able to experience a wide range of ecological features that are designed to help preserve the environment, including the Light Wall ? a polycarbonate wall with high light permeability ? and the Top Lighting system, which brings natural light into the hangar and keeps illumination levels high. The program included other activities that showed how NCA, as a cargo airline, is taking unique measures that contribute to preserving the environment. For example, a pilot explained how NCA planes are flown in an environmentally friendly manner, while the children also learned that NCA uses lightweight pallets and ultra-light cargo pallet nets to reduce total aircraft weight. In addition, the children were able to examine the cargo hold through the nose cargo door, a unique feature of freighter aircraft. An airplane mechanic was on hand to give a detailed explanation of the special features and mechanisms. There were shouts of admiration and wonder when the children were treated to a rare close-up view as the impressive nose cargo door opened and closed. The tour ended on a happy note, with the group posing for photographs with the pilot and maintenance crew.
NCA will continue to actively adopt measures and activities that are friendly to the Earth and its inhabitants and, as an air cargo carrier, we are committed to making the utmost efforts to promote a deeper understanding of our role and its significance.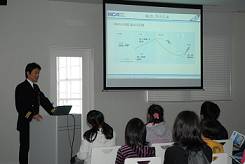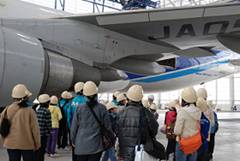 Left: A pilot explains the environment-friendly measures implemented by NCA
Right: A maintenance engineer describes key mechanisms of an aircraft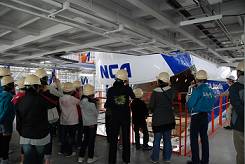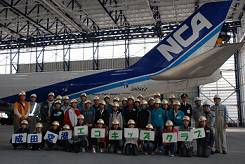 Left: Examining the nose cargo door
Right: The children pose for a group photograph in front of one of NCA's aircraft
(JA05KZ/NCA Apollo)
What is the Narita Airport Eco-Kids Club?
The Eco-Kids Club was established by the Narita International Airport Corporation (NAA) with the mission of explaining various environmental measures being implemented at Narita Airport and to give children a chance to interact with the natural environment surrounding the airport, so that they are able to understand the importance of environmental protection. The Eco-Kids Club began its activities in June 2005.
For further inquiries: Public Relations. Public@nca.aero