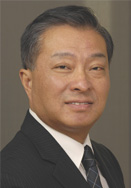 I would like to express my sincere gratitude for your continual assistance and cooperation. Flight operations to the United States began in 1985, and over the years Nippon Cargo Airlines (NCA) has been the only international cargo airline based in Japan. During that time, we have received the continual support of our customers, stockholders, and clients, and have been able to remain accident-free.
NCA has a corporate philosophy emphasizing safe operations as our first priority, and our staff members continually strive to improve our safety record. We also support the international logistics market through air cargo transportation and contribute to the development of culture, society, and economy around the world in our aim to achieve a better global society through environment preservation and giving back to society as a corporate citizen.
In fact, on 25 July 2012 we became the first user in Japan to receive the most advanced Boeing 747-8F aircraft, which will be the backbone supporting the future of NCA. Using this new asset, we will do our utmost to meet and respond swiftly and flexibly to the various needs of our customers, making the maximum use of greater fuel efficiency and superior environmental performance, the greatest features of the B747-8F.
The international air cargo market surrounding us is changing very rapidly. We will continue to grow and change to meet the needs of established customers in addition to those who may not have much experience with airfreight shipments.
Your continuing support would be greatly appreciated.

Fukashi Sakamoto
President & Chief Executive Officer