Safety measures
Safety Management System

Education and training

Maintenance and inspection

Maintenance work and inspection of equipments to ensure safe operations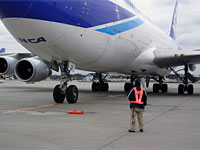 Pre-Departure Maintenance
Pre-departure maintenance procedures include pre-flight inspections, taking care of problems and other necessary maintenance work. (Photo shows an NCA aircraft at the time of its arrival.)
As part of a pre-flight inspection, aircraft mechanics will carry out the inspection in accordance with a list of check items prepared in advance.
Drawing up a list of items to be checked will standardize the inspection work and lead to safe flight operations.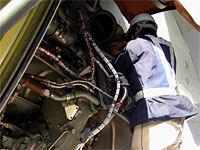 Inspection of equipments (inspection of engines)
NCA freighters are propelled by four powerful engines.
Ensuring that the engines are operating safely is one of the critical items that needs to be checked in advance of a flight.
For each flight, the pilot and experienced mechanics are required to examine the condition of each engine.
In addition, aircraft that fly 2000 Flight Hours or 400 Flight Cycles will undergo a more exacting examination by mechanics, including a detailed examination of the interiors of engines utilizing an endoscope, an instrument normally used to examine human stomachs.

Previous page