NCA's Activities for Environmental Conservation
Environmental Policy

Reduction of CO2 Emitted by Aircraft

Activities Related to Facilities

Activities Related to Reduction and Recycling of Waste Material
Communication with Local Community

Communication with Local Community
Visit to Line Maintenance Hangar by "Narita Airport Eco-Kids Club"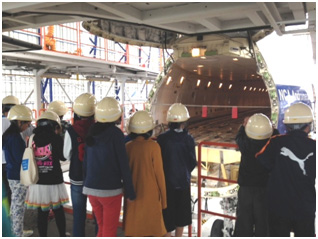 On October 31 2015, "Narita Airport Eco-Kids Club" ECO-TOUR was held and NCA hangar was selected one of visiting place of the tour. "Narita Airport Eco-Kids Club" was founded by Narita International Airport Corporation (NAA) in order to introduce Narita Airport's environment-friendly activities to the children, and at the same time, to have them feel importance of environment in touch with natural environment at the periphery of Narita Airport.
NCA welcomed 60 elementary school pupils. At the visit, the pupils listened to explanation of using solar power system and saving electrical power and water. And they went down to the hanger place closing to real B747-400 Freighter. They were explained by maintenance staff and surprised how big a real aircraft is and powered nose cargo door of the aircraft. NCA would like to communicate with a local community importantly through such activity.
"Development Bank of Japan Green Building Certification"
On August 8, 2013, NCA received "DBJ Green Building Certification". DBJ offers this certification in order to support who own or operate real estate properties with high environmental and social awareness. NCA won the first certification in airline industry by their evaluation of following points.

① NCA introduces B747-8 Freighter.

② NCA improves flight operation and continues to seek efficiency of aircraft utilization.

③ NCA operates ecological hangar and reduces environmental load. And they also evaluated that NCA has own environment managing system led by CEO with "Environmental policy" and that meets social requirement.

Previous page