NCA's Activities for Environmental Conservation
Environmental Policy

Reduction of CO2 Emitted by Aircraft

Activities Related to Facilities

Activities Related to Reduction and Recycling of Waste Material
Communication with Local Community

Activities related to Facilities
Line Maintenance Hangar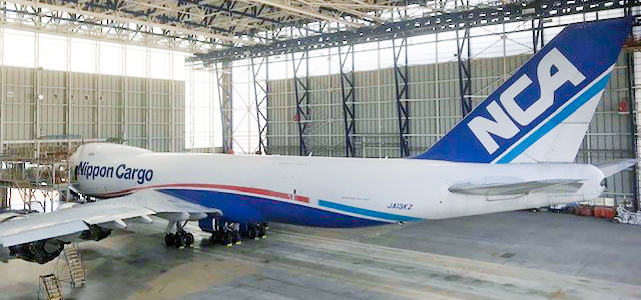 NCA built maintenance hangar at the maintenance area of Narita Airport and started its operation from June 2009. This hanger has the size to accommodate one currently-used B747-400 Freighter or one B747-8 Freighter to be introduced in the future. As "Polycarbonate" having high translucency of natural light is used for the wall and giant doors, doorways for the aircraft, maintenance work can be conducted without illumination of the lights in the daytime combined with the large-size skylight installed on the roof. Furthermore, NCA pays utmost consideration to the environment through introduction of various kinds of ecology items such as "balance type natural ventilation window", "aircraft washing with rainwater", and "rooftop gardening", etc. and expects reduction of annual CO2 emission by about 30% in comparison with the conventional hanger.
NCA Line Maintenance Hangar Leaflet

(4,706KB)
Electrically-operated Flight Simulator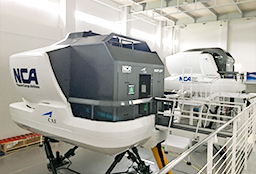 It is mainstream method to utilize flight simulators which are equipped cockpit with visual display for crew training today. This simulator is installed in the Flight Crew Training Center which started its operation in October 2008. The simulator that NCA introduced recently is the latest electrically-operated type and is environment-friendly because it reduces not only waste oil, etc. but also its electric power consumption during operation to about one quarter in comparison with conventional hydraulically-operated type.

Previous page